Transgender in India accounts for about 2 million in numbers and according to census reports nearly half of them are illiterates, whereas only few of them are employed for certain lower class jobs. From seeking employment opportunities to getting various benefits of living like a common man, Transgender in India are restricted to the margins of the society.
But, the day when Supreme Court announced the recognition of 'Third Gender' to the Transgender community in India, industries showed an active interest in hiring them and certain policies were proposed in order to eliminate the discrimination faced at the workplace. Be it the state of Odisha, where they offered BPL status to the Transgender, or the corporate job offered by Global Tech firm in Bengaluru, the workplaces in India are eyeing to become Transgender Friendly.
Kochi Metro became the First Government Organization to employ 'Third Gender' Candidates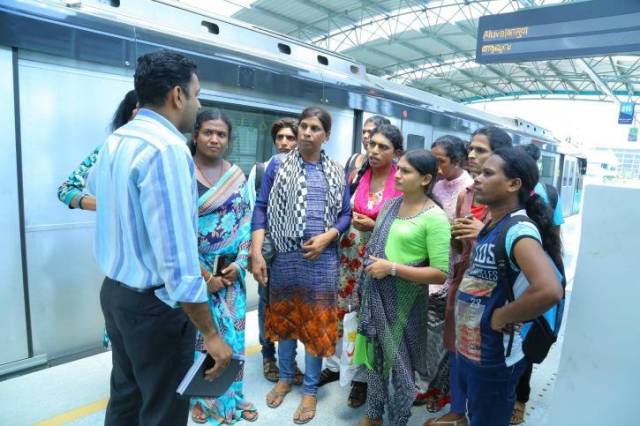 During the second quarter of 2017, when Kochi Metro employment opportunities were listed, they showed an active enthusiasm to employ 23 Transgender Candidates for various posts in the Organization. This was the first attempt by any government organization to hire the 'Third Gender' and give them an equal opportunity, to those of the other genders.
In an interview with Hindustan Times, Elias George, the Managing Director of Kerala Metro Rail Limited said, "This is an attempt to bring the Transgender to the mainstream. We hope our maiden attempt will be a runaway success. We expect other firms to follow suit and engage them in respectable positions."
The metro sources revealed that those 23 employs have undergone written tests and interviews before selection and now they are subjected to training phase. Also, in the coming days, transgender in region will have many opportunities based on the performances of the current recruit.
Odisha: The first state to provide Pension Benefits to the community of Tansgender
The state has taken a step to empower the Transgender people by offering them a Below Poverty Line (BPL) status, last year. They can now entertain Pension, Health, Education and Food Benefits, thus ensuring their welfare in society.
In the above proposal, the members of the community will be provided BPL cards, which will ensure them to avail benefits of various government programs like, loans to setup businesses, pension, free housing and annual paid work for 100 days.
They are also entitled to 5kg of food grains, every month.
Corporate friendly, Bathroom and Health
The world's most LGBT inclusive company, IBM has recently projected to cover gender affirmation surgery in its corporate health benefits plan, from this year.
Also, a Bengaluru based Tech firm, ThoughtWorks employed a transgender to introduce the diversity initiative in their office and to ensure the smooth settle-in period of the employee, they have appointed an office buddy and a counselor.
Getting hired and being employed were not lone problems faced by the Transgender. Employees have to make sure that they can access bathrooms like any other employee without any inconvenience.
A major IT firm opened a campus in Mumbai ensured to have unisex bathrooms as requested by its Transgender employees. In a recent report released by The Hindu, Rashmi Vikram, the senior manager of Community Business, which is an organization that supports and leads businesses seeking to be socially inclusive quoted, "At least 12-13 of our member companies have started all-gender bathrooms, since last year." This initiative has raised a huge interest among the top notch MNCs of India to show an active support to the Transgender community of India and provide employment.
Also, some big companies are assigning a guiding staff for the transgender, in the initial job phase and guarding their identities on request.
Some facts to know:
Transgenders in India have struggled a lot to find job opportunities and they faced a huge discrimination in the society with no approval of their gender status.
But in 2011, according to census 4000 transgender people registered themselves into 'Others' category, followed by the year 2014, when supreme court assigned them into 'Third Gender' category, which ensured them a place to seek regular jobs.
In 2015, Rajya Sabha passed a bill, which sought equal rights for the group in the society and it was appointed through a voice note.
So, let's not restrict the fight for Transgender with the Campaigners or Petitioners, but instead, be the part of this revolution and help them lead a better life, just like us.